OUR CHURCHES
St. Patrick's Church
52 Main St., Macedon NY  14502
St. Anne's Church
130 Church St., Palmyra NY  14519
ALL PUBLIC MASSES CURRENTLY SUSPENDED
for social distancing due to COVID-19.
EMERGENCY PRIEST RECTORY LINE:
315-333-5379
SACRAMENT OF PENANCE (RECONCILIATION)
Will still be celebrated with 6' distancing in place.
Saturdays 3:00 p.m. @ St. Patrick's
Wednesday 5:30 - 6:30 p.m. @ St. Patrick's with Eucharistic Adoration and Benediction
Monday 5:30 - 6:30 PM @  St. Maximilian Kolbe/St. Mary's, Ontario with Eucharistic Adoration and Benediction
---
OUR PRIESTS
Pastor: Fr. Symon Peter Ntaiyia
Visit Fr. Symon's Jubilee School in Kenya 
Parochial Vicar: Fr. Anthony Amato
Hear Fr. Amato's homilies on his Soundcloud page
---
CONTACT US
Our Parish Office is currently closed to the public but is being monitored by staff.
Please call or email for Mass intentions or other inquires.
Ph: (315) 538-8242, or
Email: drexelparish@dor.org
Visit us on Facebook for updates and resources during this time.
Welcome!  Come join us!
Saint Katharine Drexel Parish is a Christian Faith Community, dedicated to serving the Lord and those we encounter through word, sacrament and service.
---
Announcements and Upcoming Events
The Bulletin is back! Click on the link above to find our latest bulletin.
Palm Sunday is April 5th (this Sunday)!  You can pick up blessed palms, Children's Liturgy of the Word booklets, and the "White Book" of Easter devotions on the front steps of both St. Anne's and St. Patrick's at the times below. Fr. Amato will be there to greet you (from a 6' distance, of course!).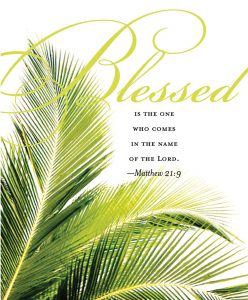 St. Anne:   9:00 - 10:30
St. Patrick:   11:00 - 1:00
Both churches will be open for private prayer during those times.
Giving to St. Katharine Drexel Parish is easier than ever!
Click on the image below to find out how.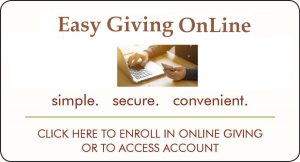 For Families: Family Zone newsletter from the Rochester Diocese 
MACEDON/St. Patrick's Food Pantry NEW HOURS through April:  Fridays 12 - 2
St. Patrick's Church is OPEN for private prayer Sunday - Thursday, 9 a.m. - noon. Please come spend a few minutes with Jesus in the quiet. Adoration, Confession and Benediction - STILL being held Wednesdays 5:30 - 6:30 p.m. Hand sanitizer & Lysol wipes provided. Please sit at least 6' from any others in the church.
PLEASE READ:  Bishop Salvatore Matano Suspends Public Masses in Rochester Diocese. There will be no public daily or Sunday Masses until further notice, including Holy Week and Easter celebrations. All priests are saying private Masses for our intentions and needs.
All in-person faith formation and sacramental preparation is canceled until further notice. Home-based study will be provided.
St. Katharine Drexel Youth Group in the news!
Read the Catholic Courier story here.
---
---
Catholic Ministries Appeal (CMA) 2019-2020
Our parish's goal this year is $53,616. As of 2/16/20, we are at 85.10% with $45,629.33 pledged.
---
Fr. Symon's 40-Year Priesthood
Fr. Symon is featured in Kenyan news site The Star.
---
Engine Behind the Power
Our Pastor, Fr. Symon Ntaiyia, Founder of Fr. Ntaiyia Julilee and Olechekut Supat Schools, interviewed on Kenyan television.
---
Vocations to the Priesthood
Do you think the Lord may be calling you to serve Him and His Church as a priest? The Rochester Diocese offers resources and people you can talk to!
Please visit ROC Priest|Diocese of Rochester
Please pray for our current seminarians.
---
Links and Information
Events and Activities
Bible sharing, children's choir, rosary, youth group, adult choir, and more. See our events calendar here.
Sunday Bulletin
Download and read our weekly bulletin here.
Fr. Amato's Homilies 
Fr. Amato's weekday and Sunday homilies on SoundCloud.
Parish Registration Form
Join our parish family as a new parishioner, or update us with your current contact information! Registration forms are available here, in each church, and from the parish office.
Serve Your Parish Community
Share your time and talent in a way that is meaningful to you: as a teacher, a musician, a helping hand. We need you!
Macedon Food Pantry
We are happy to help you provide food for your household, and to invite you to volunteer for this crucial ministry.
Follow us on Facebook
Get daily news, announcements, Catholic resources, and more!
---
DOR Web Page Regarding Reorganization (Sept. 12, 2019)
Please visit the Diocese of Rochester's web page about reorganization which includes a video message from Bishop Matano and the transcript of that message in English and Spanish, along with an FAQ and other information.
Video Message from Bishop Matano (Aug. 5, 2019)
The Diocese of Rochester has produced a new video, which includes a special message from the Bishop concerning the New York State Child Victims Act, and outlining diocesan efforts to create a Safe Environment.
---
Current Interest Links