CHURCHES and MASS TIMES
St. Patrick's Church
52 Main St., Macedon NY  14502
Saturday Mass: 4:30 p.m.
Sunday Mass: 10:00 a.m.
Daily Mass: Monday - Wednesday 8:30 a.m.
St. Anne's Church
130 Church St., Palmyra NY  14522
Sunday Mass: 8:00 a.m.
Daily Mass: Thursday 8:30 a.m.
SACRAMENT OF PENANCE (Confession)
First and Second Saturdays at 4:00 p.m. at St. Patrick's
Confession with Adoration and Benediction:
Wednesday 5:30 - 6:30 p.m. @ St. Patrick's
Monday 5:30 - 6:30 PM @  St. Mary's, Ontario
PASTORAL EMERGENCY NUMBER:
315-333-5379
---
OUR PRIESTS
Pastor: Fr. Symon Peter Ntaiyia
Visit Fr. Symon's Jubilee School in Kenya 
Parochial Vicar: Fr. Anthony Amato
Hear Fr. Amato's homilies on his Soundcloud page
---
CONTACT US
Please call or email for Mass intentions or other inquires.
Ph: (315) 538-8242, or
Email: drexelparish@dor.org
Visit us on Facebook for updates and resources.
Welcome!  Come join us!
Saint Katharine Drexel Parish is a Christian Faith Community, dedicated to serving the Lord and those we encounter through word, sacrament and service.
---
Announcements and Upcoming Events
ALL DAILY AND WEEKEND MASSES have resumed. Please observe 6' distancing in the seating provided and wear a face covering whenever possible. Entrances are marked. Thank you!
Confessions with Adoration and Benediction:  Wednesdays 5:30 - 6:30 at St. Patrick and Mondays 5:30 - 6:30 at St. Mary's in Ontario. Confessions before Mass First and Second Saturdays 4:00 at St. Patrick..
Please find our latest bulletin under the tab
We have combined our bulletin with St. Maximilian Kolbe Parish. Please note: there are summer hours listed for the Drexel office, but those are incorrect. As of now the office is still closed to the public. However, we are checking messages, so please email or call with Mass intentions, etc. Thank you!
NEWS:  Our Faith Formation Director, Elena Cambio, will be leaving the position for a teaching post at St. John Bosco School and Chesterton Academy.  We will begin a search for a part-time Faith Formation Coordinator in July. Please contact the office if you are interested in applying or learning more.
Plans for reopening public Masses at St. Katharine Drexel - letter from Fr. Symon and Fr. Amato (NOTE: we are now at 33% capacity of each church building, in accordance with New York State guidelines, no longer limited to 10 people,)
Every Saturday at 9 a.m. - Join us from home in praying a Rosary for all our personal and parish prayer intentions (please check the bulletin for parish intentions).  Share your personal prayer requests on Facebook and pray a weekly Rosary at home for all our intentions.  @saintkatharinedrexelparish. God bless!

Macedon Food Pantry at St. Patrick's is open Fridays only, 12 - 1:30.
Giving to St. Katharine Drexel Parish is easier than ever!
Click on the image below to find out how.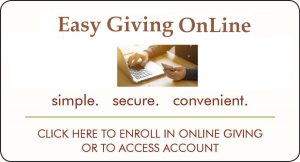 A Statement from the Business Office regarding the Security of Txt2Give OnLine Giving
Our parish is using "Txt2Give" to manage text gifts for donations.  Txt2Give's team has extensive experience developing software that handles electronic payments. Bank-level encryption is used when transmitting credit card data to a secure processor, and sensitive credit card information never enters Txt2Give. It's transmitted directly from the mobile device to the payment processor. Txt2Give is the same platform used by the Diocese of Rochester for CMA gifts. The Diocese vetted this platform with its legal counsel and auditors for security, PCI compliance*, and compatibility with its payment processor before implementing and endorsing it for use in the parishes.
If you have questions regarding Text2Give, please contact our Finance Director, Mary Capone at 585-281-7440.
*PCI compliance standards require merchants and other businesses to handle credit card information in a secure manner that helps reduce the likelihood that cardholders would have sensitive financial account information stolen.
Bishop Salvatore Matano Suspends Public Masses in Rochester Diocese. There will be no public daily or Sunday Masses until further notice, including Holy Week and Easter celebrations. All priests are saying private Masses for our intentions and needs.
All in-person faith formation and sacramental preparation is canceled until further notice. Home-based study will be provided.
St. Katharine Drexel Youth Group in the news!
Read the Catholic Courier story here.
---
---
Fr. Symon's 40-Year Priesthood
Fr. Symon is featured in Kenyan news site The Star.
---
Engine Behind the Power
Our Pastor, Fr. Symon Ntaiyia, Founder of Fr. Ntaiyia Julilee and Olechekut Supat Schools, interviewed on Kenyan television.
---
Vocations to the Priesthood
Do you think the Lord may be calling you to serve Him and His Church as a priest? The Rochester Diocese offers resources and people you can talk to!
Please visit ROC Priest|Diocese of Rochester
Please pray for our current seminarians.
---
Links and Information
Events and Activities
Bible sharing, children's choir, rosary, youth group, adult choir, and more. See our events calendar here.
Sunday Bulletin
Download and read our weekly bulletin here.
Fr. Amato's Homilies 
Fr. Amato's weekday and Sunday homilies on SoundCloud.
Parish Registration Form
Join our parish family as a new parishioner, or update us with your current contact information! Registration forms are available here, in each church, and from the parish office.
Serve Your Parish Community
Share your time and talent in a way that is meaningful to you: as a teacher, a musician, a helping hand. We need you!
Macedon Food Pantry
We are happy to help you provide food for your household, and to invite you to volunteer for this crucial ministry.
Follow us on Facebook
Get daily news, announcements, Catholic resources, and more!
---
DOR Web Page Regarding Reorganization (Sept. 12, 2019)
Please visit the Diocese of Rochester's web page about reorganization which includes a video message from Bishop Matano and the transcript of that message in English and Spanish, along with an FAQ and other information.
Video Message from Bishop Matano (Aug. 5, 2019)
The Diocese of Rochester has produced a new video, which includes a special message from the Bishop concerning the New York State Child Victims Act, and outlining diocesan efforts to create a Safe Environment.
---
Current Interest Links